Descargo de responsabilidad: este blog no está disponible en español
March 4, 2022 was a monumental day for Camino. On that day, Camino introduced their new mini pitch soccer field located on their own campus. Camino partnered with Charlotte FC's "Pitches for Progress" program, an Ally-funded initiative, to make this field become a reality. This field does more than just offer a place for people to play soccer. It is an opportunity for children of different races and backgrounds to connect with each other, grow, and get involved with other youth programs here at Camino. This field serves as a place where children of all ages can come together, get exercise, have fun, and build character.
One of the goals of Camino's program is to take young children and help them on their journey of becoming well-adjusted adults. Any child, regardless of where they come from, has the opportunity to develop and mature as a person while participating. "Pitches for Progress" connects beautifully with our mission here at Camino, which is equipping people to live healthy, hopeful, and productive lives. This soccer field can help children get in shape physically, as well as strengthen their minds, so they can live the healthiest lives possible. Camino is one of the few organizations in Charlotte that is fully invested in the Latino community. Building this soccer field goes a long way for Camino to connect to Charlotte's community even more, as soccer is one of the major things that unite countless people. Camino Vida, our health and wellness program, will also make use of this field. Their mission is to deliver a healthier lifestyle to people through a fixed diet and proper exercise. The soccer field will work hand in hand with Camino Vida to provide outdoor fitness options for people suffering from obesity, high blood pressure, or diabetes.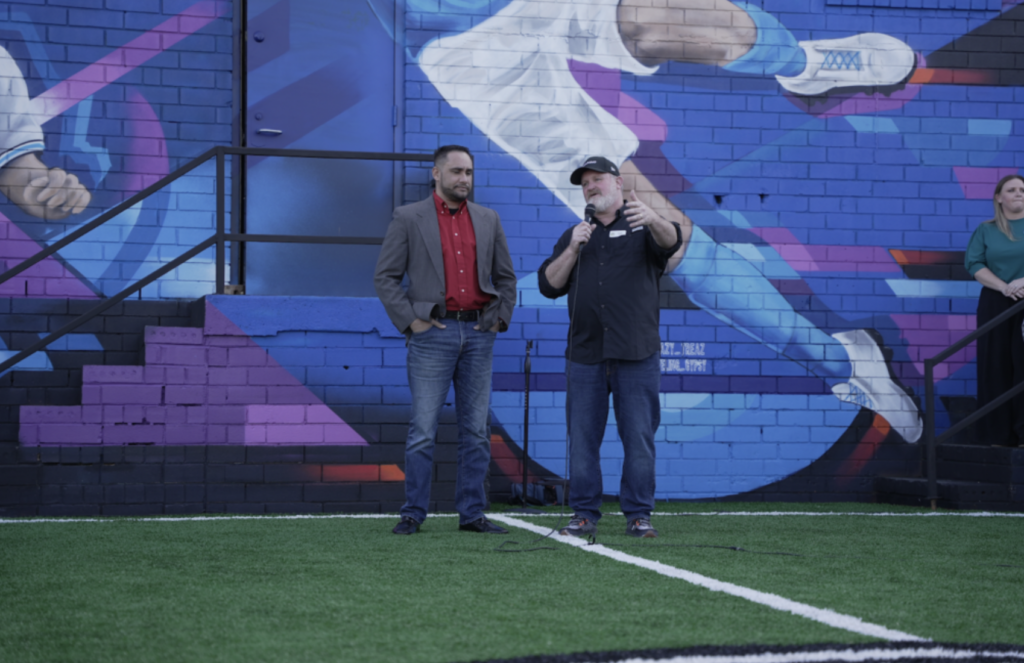 "In our area there are very few parks and even less soccer fields – we are so thankful to Charlotte FC and Ally Bank for transforming our space into a safe place for the youth of our community to dream, develop and have fun. The mural and the soccer pitch are inspiring as they have set our facility apart as an icon in the area. We are so honored and thankful for the opportunity this partnership has created." – Rusty Price, CEO of Camino Health Center.
At the unveiling of the soccer field, there was a huge turnout with many children and their families coming to the event. An abundance of supporters showcased their excitement for the field as well as their love of soccer, being completely engaged as the launching went underway. Shirts and jerseys were given out to the children and the environment was a warm and welcoming one. Many honored guests attended the event as well to show their support for Camino, the Latino community, and the city of Charlotte itself. David Tepper, owner of Tepper Sports and Entertainment, the Carolina Panthers, and Charlotte FC in Major League Soccer came to show his support and embraced the entirety of the program. Don Garber, the Major League Soccer Commissioner since 1999, was in attendance, as well as Ally Chief Marketing and Public Relations Officer Andrea Brimmer. Many of these people, including Camino's CEO Rusty Price, spoke at the event, ramping up the buzz accumulating there and expressing their joy in the completion of the field. This soccer field is encompassed by an incredibly beautiful mural displaying a gorgeous soccer theme. This mural was painted for the opening of the field and it will serve as a landmark, bringing life and vibrancy to the area. It makes this mini-pitch field stand out as an exciting site that brings people together, showing unity through soccer and exercise.
This event was incredible and exciting for everyone involved in the Camino community. The introduction of this soccer field was a great moment for anyone who is passionate about soccer, sports, physical health, and the spirits of their neighborhood. Having a place like this soccer field will do nothing but spread enthusiasm and increase the health and well-being of everyone in the area. Camino built this field as a place for people to build character, stay in shape, and have fun while improving their lives. It strengthens the mission of Camino, to equip people to live healthy and productive lives.