Descargo de responsabilidad: este blog no está disponible en español
At Camino Health Center, we prioritize living a healthy and productive lifestyle. A main factor in having a healthy lifestyle is developing a nutritious and balanced diet. Taking in the proper nutrients and educating people on healthy eating is one of the things we yearn to assist people with here at Camino. It is important to have knowledge on unsafe eating habits and how they can lead to damaging a person's well-being, drastically affecting their life. Understanding the effects of poor nutrition, which nutrients an individual needs, and how to properly incorporate them into a diet can help a person thrive physically as well as mentally.
Nutrients are substances used by people to grow and survive. They are a crucial element for any living being that not only wants to live but wants to function effectively. Our bodies require three major macronutrients: carbohydrates, protein, and fat, which we get from food. In addition to that, there are certain minerals and other nutrients our bodies need as well. Having a balanced diet that includes all of these things will help a person tremendously towards achieving a healthier life. A diet is the sum of everything a person consumes so it is important to know which foods will provide those necessary macronutrients and which foods will do more harm than good. Knowing what is going into the body with every meal can help prevent poor nutrition.
Poor nutrition is the cause of many difficulties a person may face in life. It can be the reason for stress, fatigue, and eventually can contribute to the risk of developing certain illnesses. Health problems are only inflamed when one has a poor nutrition intake. Our health and wellness program here at Camino, Camino Vida, is a bilingual and multicultural program that specializes in helping people understand their diets better so they can live a more fruitful life. One of their duties is helping people who suffer from illnesses and health concerns from a lack of proper dieting. These health issues can be anything from high or low blood sugar, high blood pressure, high cholesterol, or heart disease. When a person has a poor diet, it might affect their energy levels as well as their ability to sleep, which can be harmful long term. The bacteria in the stomach that help break down food can become upset by the things one consumes, which causes stomach pains. The stress produced from a poor diet can affect metabolic levels, slowing down one's metabolism. This stress can then manifest itself in joint or muscle pain, causing severe mobility issues in general. Having a poor diet can also affect someone mentally, leading to a loss of focus or concentration. Having a wounded mentality prevents people from operating at their best, with them not even realizing how constrained their lives have become due to this.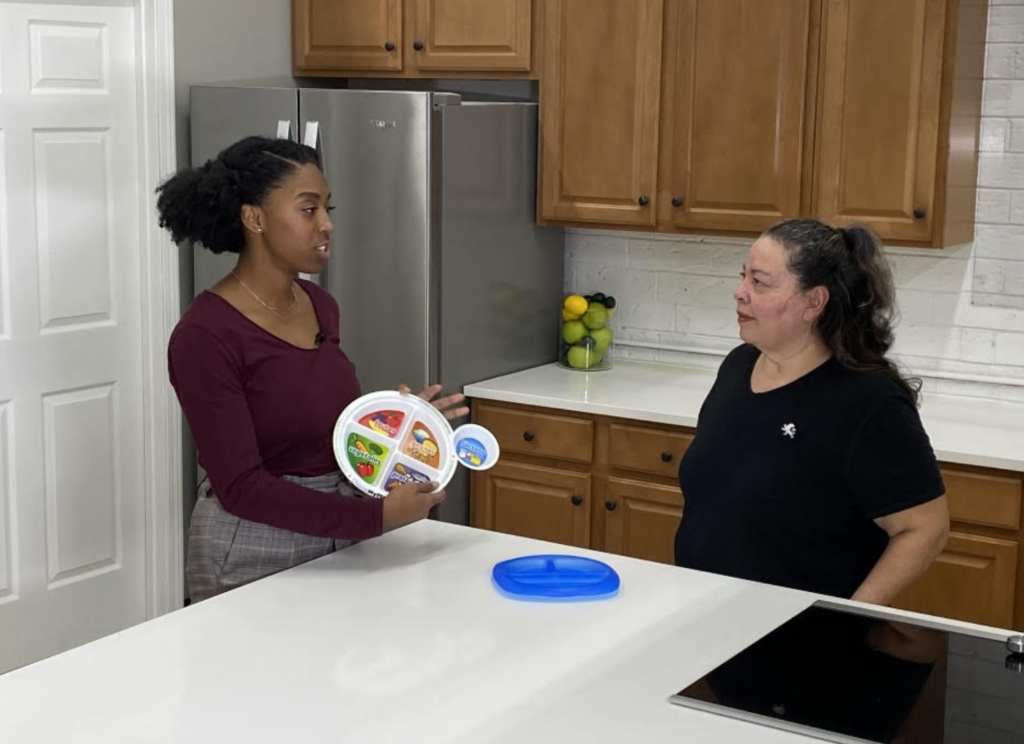 Our Nutrition Coordinator at Camino Vida, Reatna Taylor, studied at Johnson C. Smith University and received her master's in public health from Chapel Hill. Her belief is that nutrition is a part of every single person's life and should not be ignored. It can impact them in crucial ways, even altering their livelihoods. "20% of our health is influenced by what we eat," she states. Taylor works directly with the patients of Camino Vida in helping them develop a diet plan to help the health concerns they are having. She assesses which foods are missing in their diets and suggests solutions that would help them in that aspect. She believes everyone would benefit from having more balanced meals. "Eating a balanced diet that includes the main three macronutrients, half a plate of fruits and vegetables, one-fourth plate of carbohydrates, and one-fourth plate of protein is the best for your health," Taylor states. At Camino Vida, along with eating healthy, they also prioritize exercising. Exercising while eating the right balance of foods can go a long way in bettering anyone's health as the two work well together, helping each other. "Eating nutritiously and exercise are intertwined. You can't focus on one thing without focusing on the other," Taylor says.
Putting the right nutrients into the body is one of the most important things a person can do for their health as it affects so much of their life. It can contribute to either a healthy, active, fulfilling lifestyle, or lead to a sluggish, fatigued one loaded with health concerns. Nutrients are essential in keeping the body healthy and at its best so it is important to be informed on the foods we decide to eat. That is what is provided at Camino Vida, a place to learn about the foods we eat and which ones will aid us in living a more healthy, hopeful, and productive lifestyle.