Most people enjoy hearing a good story. Stories can entertain us, provide new perspectives, inspire us, and even bring us to tears. Organizations often use storytelling to help demonstrate the impact of their work, but stories only take us so far and may not give the full picture. This article discusses the use of data to tell a compelling story about the impact of a program or organization. Weaving data into a compelling story is an art form that can take it from inspirational to transformational. Your story can bring awareness to an issue, illustrate measurable changes that occurred in a community, and motivate others to join you in furthering the mission of your organization through donations, volunteering, or the use of social capital. My name is Dr. Keri Revens. I am the Founder and Director of Camino Research Institute (CRI), the research arm of Camino. I work alongside my team to conduct community-based research that informs Camino's services and oversee program evaluation that measures the impact of those services on Latino communities. I am also a Certified Health Education Specialist with experience in public health program planning and evaluation. Given my area of expertise, I will discuss the use of data in storytelling through a public health lens.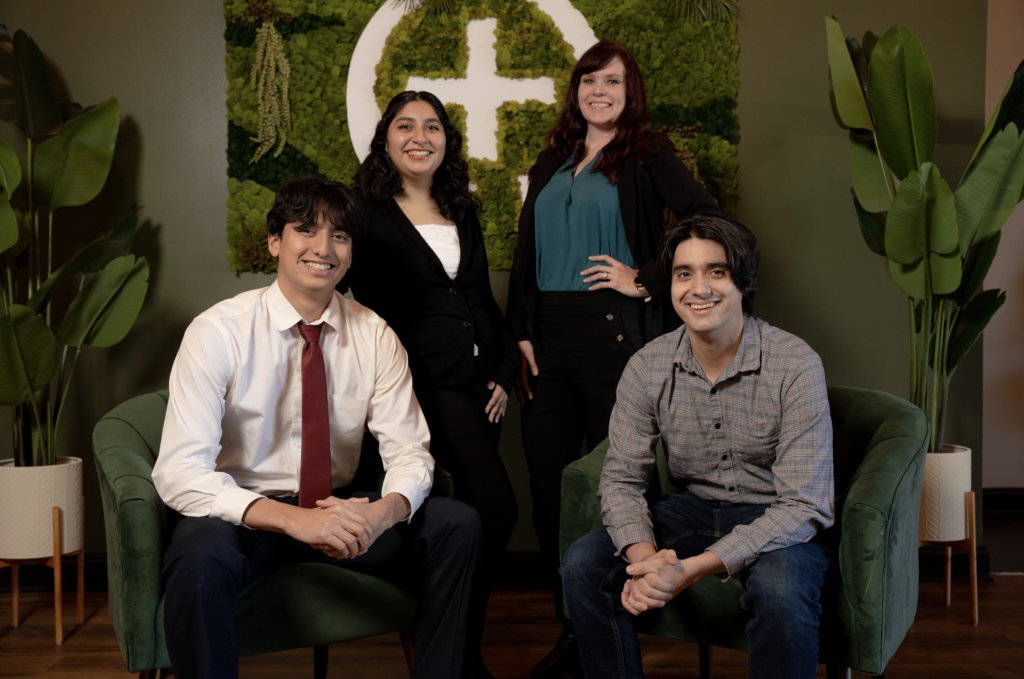 Program Evaluation
Conducting a program evaluation is one example of how you can use data to tell a story. A program evaluation is a systematic method of studying a program, practice, intervention, or initiative to understand how well it achieves its goals. A significant amount of time and resources are devoted to developing and implementing a program. When it's all said and done, how do you know it was successful? You collect and track data. That sounds simple enough, but the process can be complex. There are many different types of data that tell you different things. Most successful program evaluations include a combination of output data, outcome data, and process data.
Output data are the activities or the "WHATs" of your program, like the number of participants or program attendance.
Outcome data are the level of performance or achievement that participants experienced. In other words, what changes happened because of your program?
Process data helps you understand "HOW" the change happened and can include things like the type and quality of service delivered.
It can be confusing to decide what type of data you should use to tell your organization's story. Here are a few tips to help get you started.
Identify the goals of the program. Make sure your goals are SMART (Specific, Measurable, Actionable, Realistic, and Time-based).
Consider the length of the program. Keep in mind that it takes longer for people to change behaviors than it does to improve their knowledge on a topic. There are many theories about this, but The Theory of Planned Behavior and the Stages of Change Model are helpful frameworks to better understand behavior change. For example, a 6-week program is unlikely to see significant changes in clinical outcomes like cholesterol but may yield changes in nutrition knowledge.
Choose the instruments that will measure changes. In research, an instrument is a tool for collecting, measuring, and analyzing data. For many programs, you can use pre-developed surveys or assessments that are given to participants at the beginning and end of the program to measure change over time.
Combine different types of data. You can use different instruments to collect different types of data. Having variety in data is useful when creating your story. You can also conduct qualitative interviews or focus groups to gain deeper insight into the participants' experiences throughout the program.
Use a satisfaction survey. Think about anything else you want to know about the program. Did participants enjoy it? Did they think the instructor was knowledgeable? High quality?
Look at the table below to see some examples of how to write SMART goals for output, outcome, and process data, for a 12-week community nutrition education program.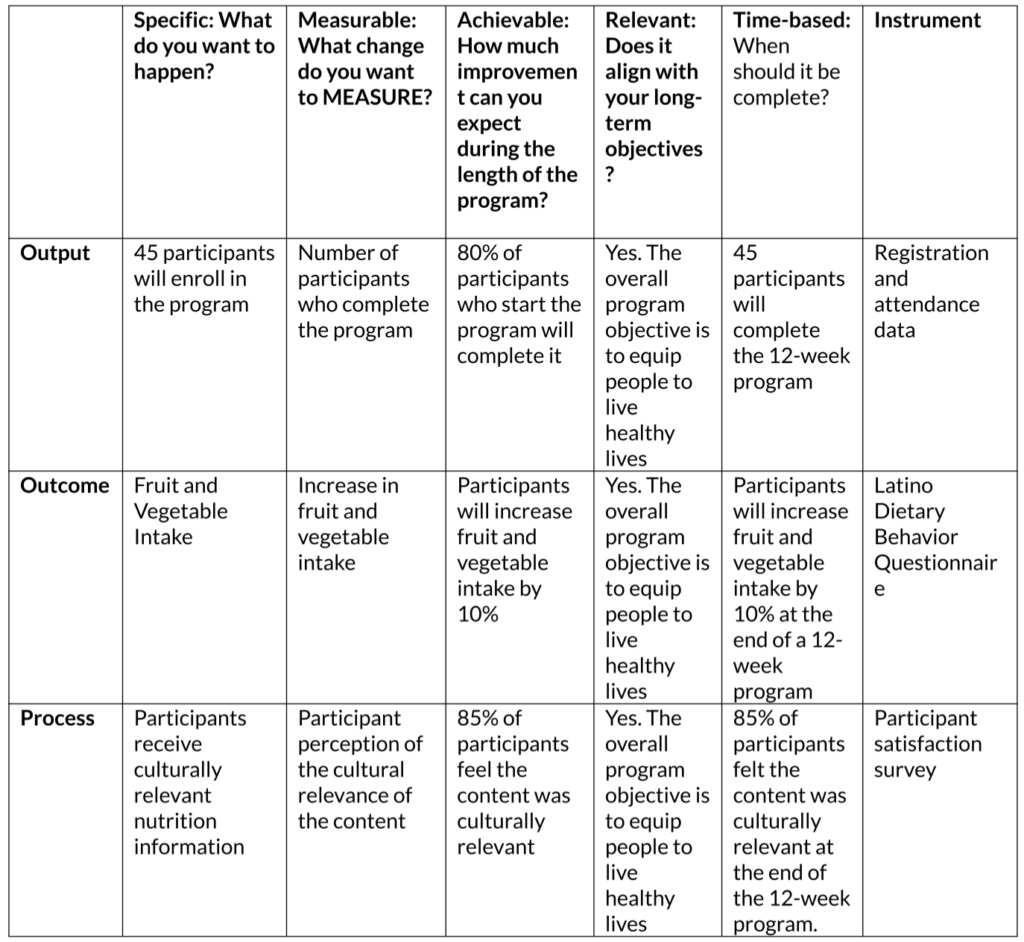 Consider Your Audience
Once you have the data, you can start crafting your story. But first, you need to consider your audience. Who do you want to share this story with? What do you want them to take away from your story? I used to think this answer was simple—I want them to care about my story as much as I do. As a data nerd, I tend to assume everyone values data as much as I do. But I have come to realize that the value of data may not be obvious. Each person you encounter brings a new perspective to your work and your worldview. Think about each person you want to share the story with—Who are they? What do they do? What motivates them? Ask yourself, "Why should they care about this?". It may sound harsh at first, but it will help you frame your story in a way that grabs their attention and makes them want to hear your story. Next, ask yourself, "What do I want them to do with this information?" If the data is for a funder, consider emphasizing the return on investment. If the data is for a community member, consider adding impactful quotes alongside the data. You may want to end your story with a call to action that asks people to get involved through volunteering, donating, or sharing the information with their networks.
Lastly, think about how you will deliver the story. You can use video, visuals like infographics, social media reels, or presentations, to name a few. Use various graphs to demonstrate output and outcome data and dynamic graphics, photos, and other visuals to keep it interesting.
Takeaway
This article provided some tips on how to collect data to measure the impact of a program and things to consider as you craft your story. Spending time on each of these aspects will help you frame your story in a way that makes people not only want to hear it but feel inspired to be a part of furthering your mission or work. Check out this video on the experiences of Latino immigrants in Mecklenburg County to see how CRI used data to tell a story. If you want to learn more about using data to demonstrate the impact of your work, reach out to us at Camino Research Institute (reserach@camino.org). We offer consultation services and would be happy to help you create your story!